Orascom Construction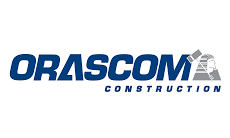 Orascom Construction (OC) is a leading global engineering and construction contractor with a footprint covering the Middle East, Africa and the United States. OC primarily focuses on the infrastructure, industrial and commercial sectors for public and private clients. Throughout the Group's decades of contracting history, OC has undertaken numerous landmark projects and its proven track-record of excellence has brought a superior reputation resulting in a wide range of clients.
The Company has grown from a local contractor with roots tracing back to Upper Egypt in 1950, to operating in four countries in the 1990s, to having investments and operations in over 10 countries today. Our extensive track record covers several important sectors such as power, water, transportation, industrial and new cities. These include the largest combined cycle power plants in the world, the Greater Cairo Metro, over 55 million tons/annum of cement and fertilizer production capacity around the world, the first PPP project in Egypt, the first renewable energy IPP project in Egypt, and the largest seawater desalination plant in Africa.
Orascom Construction is a leading Power contractor in the MENA region, having installed over 27,000MW of power generation capacity, of which, 12,000 MW were successfully delivered on a fast-track basis in the last 5 years. Through its network of partnerships with global technology providers, Orascom Construction has developed remarkable expertise in delivering various power generation models: conventional simple cycle, combined cycle, steam thermal plants, as well as renewable power plants.
The Company also develops and invests in infrastructure opportunities, has a remarkable building materials and facilities management portfolio, and owns 50% of the Belgium-based BESIX Group. OC employs more than 60,000 people worldwide and is dual listed on NASDAQ Dubai and the Egyptian Exchange.
Orascom is expanding its presence regionally by pursuing select international projects, primarily in the Middle East and Africa.
Orascom Construction PLC is ranked number 32 on ENR's 2021 Top 250 International Contractors list, and number 105 on ENR's 2021 Top 250 Global Contractors list.
For more information visit our website.